Mother's Day is right around the corner, so it's about time we shine a spotlight on the real superstars in our lives – Moms! They do ALL the things ALL the time, and no matter how much they may love it, it takes an All-Star effort to keep a family running smoothly. Moms are incredible at putting their families first, but Mrs. T's wants to help moms find a little time for themselves. 
Mrs. T's is helping moms to pursue their individual passions with our All-Star Moms Program! We're encouraging moms to invest in themselves and the hobbies they love by providing micro-grants to a few lucky winners. Whether it's writing courses, photography equipment, or a side-hustle, our micro-grants will fuel mom's passion, whatever it may be!  
We know how busy moms can get. When every minute counts, Mrs. T's Pierogies help busy moms make time with quick and easy dinnertime options that the whole family will love. This Air Fried Mini Pierogy Shrimp Tempura Bowl is a fantastic example of a delicious, easy-to-make dish that every mom can add to their recipe rotation!
The star of this dish is Mrs. T's Mini 4 Cheese Medley Pierogies, whose rich and creamy filling pairs wonderfully with crunchy shrimp tempura and the fresh, bright flavor of our veggie bed. These mouthwatering flavors are perfectly balanced and sure to deliver an All-Star dinner experience – all with only 20 minutes of prep! All that time saved in the kitchen creates more moments for Mom to follow her passion!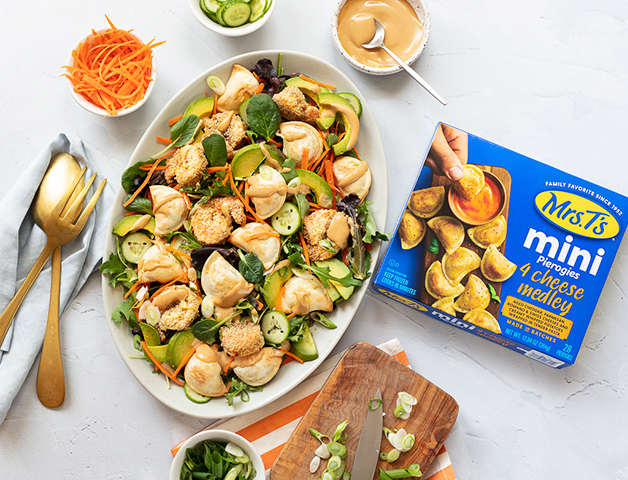 If someone you know is an All-Star Mom who deserves a helping hand to pursue their passion, nominate them for our All-Star Moms Program! Or maybe… you're a mom—what's your passion? Feel free to nominate yourself! Self-nominations are not just accepted, they're highly encouraged. We want to hear from all of the All-Star Moms out there! 
Now through Mother's Day, May 8, 2022, you can nominate the All-Star Moms in your life at mrstspierogies.com/allstarmoms/ 
Mrs. T's All-Star Moms Program will have one (1) grand prize winner receiving $15,000 + a one year supply of Mrs. T's Pierogies and three (3) weekly winners receiving $5,000 + a one year supply of Mrs. T's Pierogies! Be sure to share on social so all the moms in your life have a chance to win.   
Good luck, Moms!
BACK TO BLOG