Food, Fun, and Family: The Key Ingredients at Mrs. T's
Mrs. T's Pierogies is a story that started in the Twardzik family kitchen, in the small town of Shenandoah, Pennsylvania. The founder of Mrs. T's, Ted Twardzik, always remembered the lines of people wrapped around local churches to buy pierogies, and thought it was the perfect food to share with the ones you love.
Ted's mom, Mary Twardzik, better known as Mrs. T, always enjoyed cooking for her family—and everyone loved her handmade pierogies.
After graduating college with a degree in business, and working at a top New York accounting firm, Ted decided to move back home to Shenandoah. He thought to himself; why not sell his mom's delicious pierogies in stores for more people to enjoy? And, the perfect name for the company was Mrs. T's Pierogies, in honor of his mother and her original recipe.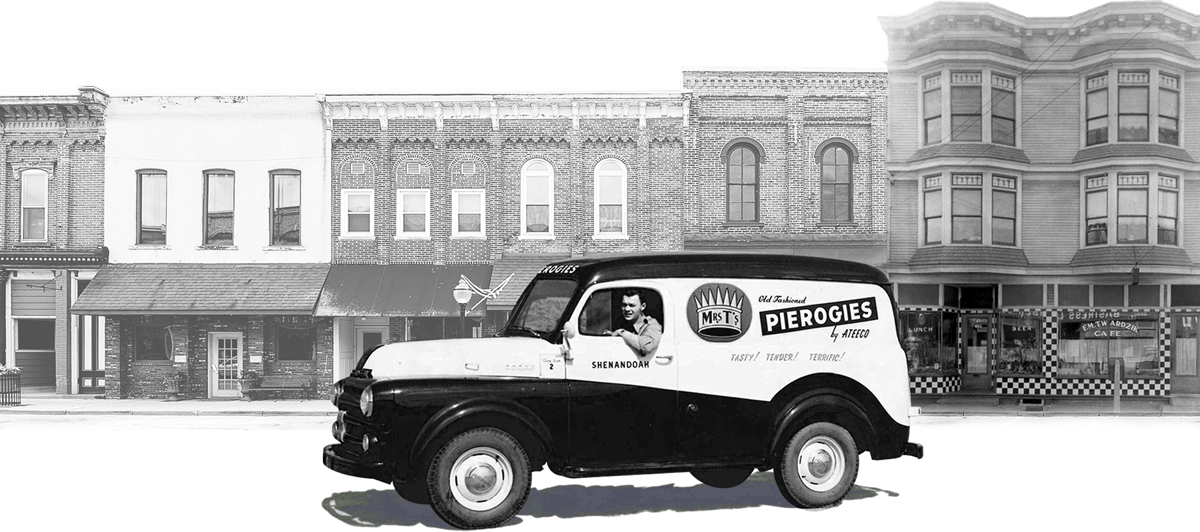 So, in 1952, Mrs. T's Pierogies was officially born!
With five women sitting around his mother's kitchen making pierogies and selling them to local stores, he knew he was on to something. It wasn't long before he had worn out his welcome in that kitchen and moved production to the company's current location in Shenandoah, PA.
But to Ted, this wasn't just a business. It was an opportunity for everyone to experience those handmade, delicious pasta pockets, stuffed with hand-whipped potatoes and cheese—the very ones that he grew up eating. It was a dream to build something his family could be proud of—in the small town that he loved.
Mrs. T's Pierogies became a staple, not only in local stores, but also surrounding communities. And, as the love for Mrs. T's Pierogies grew, so did the demand. As the company flourished, it was really important to Ted and his family that the Mrs. T's Pierogies experience remained as consistently enjoyable and delicious as it was in his mom's kitchen.
Over 65 years later, that same spirit lives on in Ted's son, Tom, who now runs the family business. And, Mrs. T's is now the largest provider of pierogies in the country and offers many new flavor combinations, as well as the original classics.
Yet no matter how many years go by, one thing remains: food, fun, and family will always be the key ingredients at Mrs. T's.
Mrs. T's Pierogies are stuffed with the stuff you love, to enjoy with the people you love!
WHAT ARE PIEROGIES MADE OF?
Pierogies originated in eastern Europe. But you don't need European roots to love Pierogies. In fact, when you try them, Mrs. T's Pierogies will quickly find a special place in your heart (and stomach).
Pierogies are stuffed pasta pockets, kind of like ravioli, only semicircle-shaped—like a "smile." Our classic pierogies are stuffed with creamy whipped potatoes and aged cheddar cheese, but we have all kinds of flavors bursting with big, bold flavors perfect for any get-together!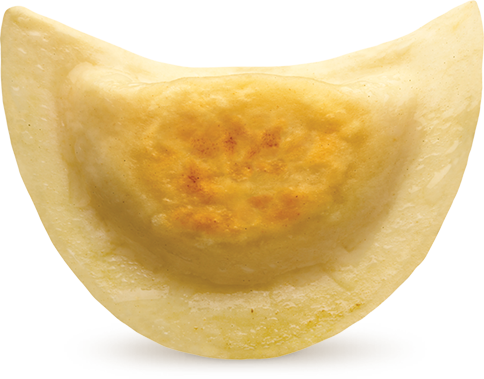 "Y" DO WE SPELL PIEROGY WITH A "Y"?
"Pierogi" is the more common spelling. But at Mrs. T's we spell it with a Y, as in Pierogy. Why? Let's just say we came to a fork in the road that looked more interesting, and we took it. Because that's the way we do everything here — a little different, a little more delicious, and a lot more fun! It's good to be different — everybody knows that. And it's really, really good to be a Mrs. T's Pierogy, because it means everybody loves you. And that's pretty special too, just like the letter "Y." You see, what makes the letter Y unique is that it's actually two things: sometimes it's a vowel (like a, e, i, o and u), and other times it's a consonant (all the other letters). It's kind of like how we make Mrs. T's Pierogies with potatoes and pasta – doubling down on two different types of deliciousness to create something infinitely more craveable than either on its own. It's different, it's special, it's how we roll. Long story short, we use the letter "Y" to say we're special. It's our little secret, just between friends. And you know what that means — you're one of ours now, too!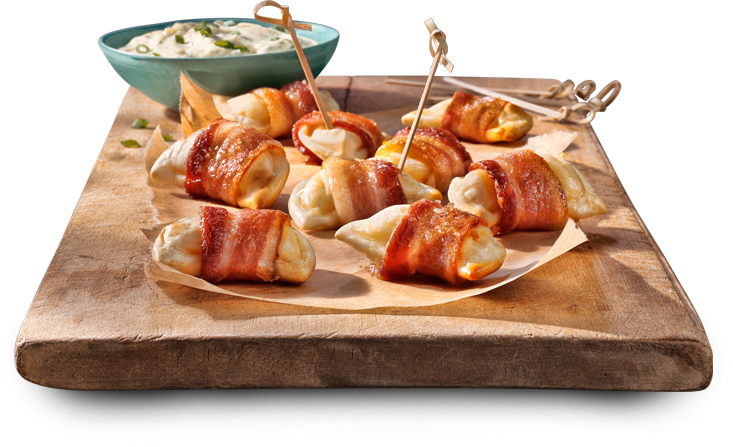 SOOO GOOD, SO MANY WAYS
Mrs. T's Pierogies are easy and amazingly versatile. You can sauté them till they're golden brown, deep fry them till they're crispy, boil, bake, microwave, or grill them. You can even make them in your slow cooker. Enjoy pierogies in one of our amazing recipes, or in one of your own favorite dishes!
Cooking Instructions