There's no doubt about it — summertime means family time! Whether it's a birthday party, a backyard BBQ, or a neighborhood block party, every summer shindig needs a little family-friendly entertainment to keep the laughter and good times rolling. Mrs. T's knows that while you might come for the food (pierogies 😉), you stay for the company, and that's why we put together an epic list of some of the best outdoor gaming options to make the most of your next backyard get-together! We broke our list up into a few key categories to make sure there's plenty of fun options for every type of game-lover!
It doesn't matter how old you are, we all have our favorite games! See if your favorite backyard pastime made the list!
Skill Games – It's all in the wrist with these toss-based skill games. Whether using a ring, a beanbag, or a horseshoe, it takes some concentration, skill, and even a little luck. Tossing games like this are great for family tournaments and competitive play! See if you have what it takes to master these skill games!
Cornhole
Horseshoes
Ring Toss
Ladder Golf
Bocce
Kan-Jam
Frisbee Golf
The Oversized – Whoever decided to make giant games knew how to have giant fun! Who doesn't love taking some classic indoor activities and blowing them up to backyard scale? Whether it's for a simple get-together or a full-on backyard blowout, these games are almost as fun to watch as they are to play! Step up to the big leagues with these backyard favorites!
Giant Jenga
Jumbo Connect 4
Basket Pong
Giant Checkers/Chess
Strategy– Choose wisely! Some of the most rewarding outdoor game experiences are the ones that let you flex those critical thinking skills. These games are great ways to spend some quality time with your opponent. Just grab a nice, cool glass of lemonade, set up on a porch or under a shady tree, and let the fun begin. Strategy games are perfect for family and friends who prefer a more low-key gaming experience. It'd be a good move to bring any of these fun games to your next function!
Dominoes
Mancala
Mahjong
Backgammon
The Classics – The tried-and-true iconic pastimes that the backyard gaming culture was built on. Summer hasn't officially started until you see these games popping up all around the neighborhood. Get the party started with any of these summertime classics!
Croquet
Whiffle Ball/Kickball
Kickball
Volleyball
Badminton
Lawn Darts
Backyard games and activities are a great way to stir up a little friendly competition and claim some bragging rights among your friends and family. Just remember this age-old saying about the true nature of the competitive spirit – "It's not about whether you win or lose, it's about working up an appetite for that next delicious plate of Mrs. T's Pierogies!"
Mrs. T's quick and easy prep methods ensure you never miss out on any of the fun! You can toss pierogies on the grill for a quick and flavorful snack. Or make a delicious meal that's ready to eat whenever you are by boiling pierogies (be careful not to overboil), adding butter or oil, and letting them rest in a crock pot.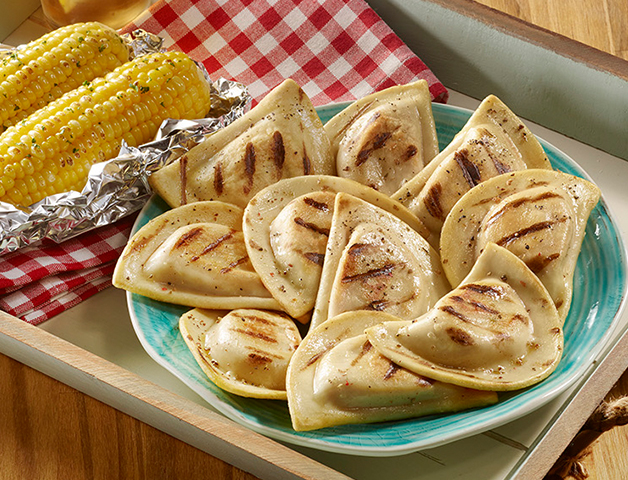 How do you and your loved ones stay entertained during your summer shindigs?  Are there any amazing backyard games that we forgot to list? Hop on social media and let us know! Be sure to tag us @Mrstspierogies. Mrs. T's loves hearing from all of you!
BACK TO BLOG