Back to Media/Press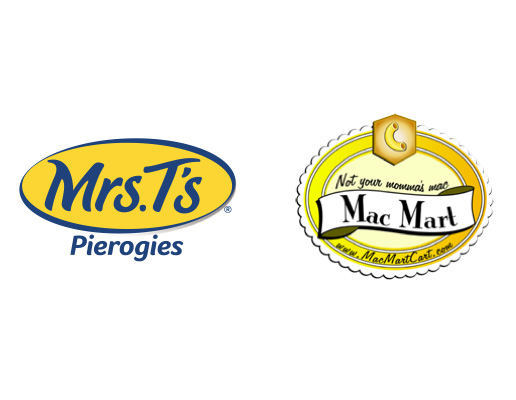 MRS. T'S® PIEROGIES TEAMS UP WITH MAC MART TO CREATE "MACAROGIES & CHEESE" IN CELEBRATION OF TENTH ANNUAL NATIONAL PIEROGY DAY
Philly Mac'n Cheesery Swaps Macaroni for Mrs. T's Pierogies in New Limited Time Offering
Philadelphia, Pa., October 1, 2018 – In celebration of the 10th annual National Pierogy Day on October 8, Mrs. T's Pierogies, the largest producer of frozen pierogies in the country, is teaming up with fellow Pennsylvania-based brand Mac Mart, Philadelphia's first mac and cheese specialty restaurant, to bring fans a limited-time dish that, you guessed it, swaps macaroni for pierogies.
Available October 1 through October 31, Mrs. T's & Mac Mart's Macarogies & Cheese will feature a combination of Mini Four Cheese Medley Pierogies and Mini Cheddar Seasoned with Bacon Pierogies covered in Mac Mart's signature creamy 7-Cheese sauce and topped with caramelized onions, crispy bacon, cheddar cheese and crunchy fried onions.
"We know that Philadelphians love their pierogies, and we think Macarogies & Cheese is the perfect dish to enjoy on National Pierogy Day and all throughout October," said LeeAnn Smulligan, Director of Marketing, Mrs. T's Pierogies. "We want to inspire our fans to be creative with pierogies, and Mac Mart's version is a fun twist on the classic macaroni and cheese recipe."
"In our six years in business, we've offered hundreds of fun and inspired Mac and Cheese menu items, but we've never replaced the macaroni noodles before," said Marti Lieberman, Owner and Creator of Mac Mart. "We're all about experimenting with new flavors and ingredients, so joining forces with Mrs. T's Pierogies to celebrate our newest favorite food holidays, National Pierogy Day, seemed like a no-brainer!"
To add to the celebrations, throughout the month of October, Mrs. T's Pierogies is offering three lucky fans in the Philadelphia area the opportunity to win a catered get-together for them and their closest friends courtesy of Mrs. T's and Mac Mart. To enter, fans should visit the Mrs. T's Pierogies Facebook page and respond to the official sweepstakes posts. Plus, on October 8, the first 50 people to place an order online via Caviar will receive a special National Pierogy Day kit, including a Mrs. T's Pierogies t-shirt, coupon, koozie and more!
Mrs. T's & Mac Mart's Macarogies & Cheese will be available at Mac Mart's Rittenhouse Square location throughout the month of October for $10.00. It will also be available for delivery via Caviar.
For more about Mrs. T's Pierogies and for inspired recipes, visit their website and follow @MrsTsPierogies on Instagram, Twitter, Facebook and Pinterest. Be sure to follow along on Mac Mart's Instagram, Twitter and Facebook. 
About Mrs. T's Pierogies
In 1952, Ted Twardzik Sr. dreamt of starting a food company inspired by his mother's pierogy recipe. He remembered how popular the Polish dumplings were at church festivals and thought people would likely buy them. Later that year, Ted sold the very first pierogy samples to his local grocery store in Shenandoah, PA, and to honor his mother Mary Twardzik – the Mrs. T – he called his company Mrs. T's Pierogies. Now, more than 60 years later, Mrs. T's Pierogies is the largest producer of frozen pierogies, producing 600 million pierogies a year.
About Mac Mart
Marti Lieberman's Mac Mart debuted on the streets of Drexel's campus in the winter of 2013. Without much experience running her own business, let alone a food truck, Miss Lieberman knew there were some kinks to work out, but she was determined to succeed. While her cheese sauce was always a hit, she felt like there was something still missing. Lieberman brought on two people to complete her team; Her sister, Pamela and her boyfriend, Garrett Jablonski. By combining Marti's background in public relations, Pamela's love of all things culinary, and utilizing Garrett's brawn for day to day operations, the bright pink truck became an instant hit at private affairs, night markets, and food festivals.