March Madness is here again! College basketball's main event calls for some big-time snack ideas that are worthy of the spotlight. Mrs. T's has you covered with these delicious, dunk-able appetizers guaranteed to keep your home team happy all tournament long!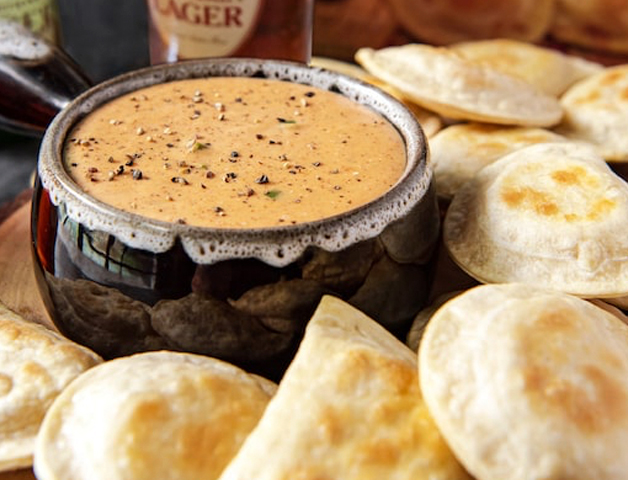 Classic Onion Pierogies with Yuengling Traditional Lager Cheese Dip
This incredible dip was created by Sheryl Yuengling, a 6th Generation Yuengling Family Member! Yuengling® is America's Oldest Brewery. Located in Schuylkill County, just a few minutes down the road from the home of Mrs. T's Pierogies, it's no wonder their Traditional Lager matches up perfectly with our fresh baked pierogies.
The base of this dip is Yuengling Traditional Lager and cream cheese —delivering a rich, smooth, and flavor-packed foundation. This undoubtedly delicious dip provides the perfect assist to Mrs. T's Classic Onion Pierogies – tasty pasta pockets loaded with creamy whipped potatoes and savory diced onions. Double-team your tastebuds with this yummy app idea from Mrs. T's and Yuengling.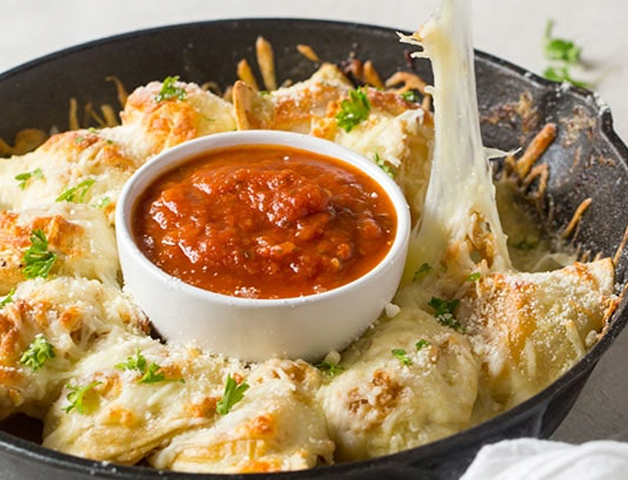 Cheesy Garlic Pull-Apart Pierogies
Teaming up Mrs. T's Garlic & Parmesan pierogies with melted cheese, herbs, and classic marinara sauce is a truly unbeatable app combo. The longer bake times in this recipe make it the ideal halftime snack, but don't be surprised if the mouthwatering aroma has your team sniffing around the kitchen by the 2nd quarter!
Prebaking the pierogies before placing them into the skillet ensures crispy bites and a warm potato center. Drizzle with garlic butter and top with mozzarella cheese. After a few minutes in the oven, you're ready to start tearing and sharing. Your crowd will go wild for these cheesy garlic pull-apart pierogies!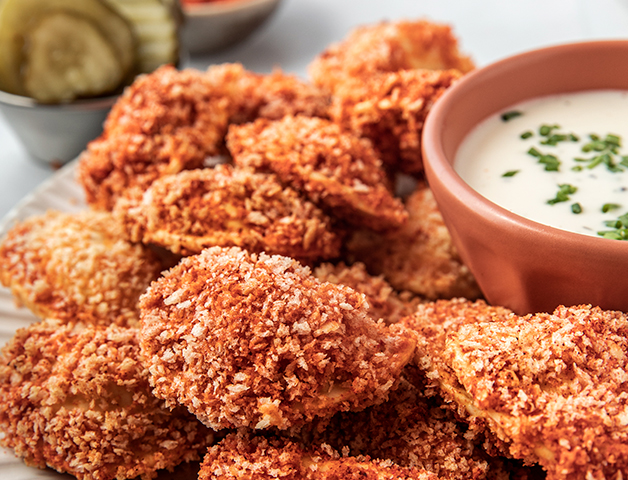 No game day is complete without a little Nashville heat! The cheesy goodness of our 4 Cheese Medley Mini Pierogies paired with the iconic cayenne kick of Nashville Hot Sauce is a guaranteed game changer. Turn your air fryer into the MVP and dish out these perfectly crispy minis to the hungry fans in your life. Serve with a side of pickles, coleslaw, and ranch for dunking!
From tip-off to the final buzzer, Mrs. T's will keep you undefeated with the tastiest app ideas that let you focus less on prep time and more on game time!
When the game is on the line, team up with Mrs. T's Pierogies!
Still hungry? Find more great, sharable app ideas here!
BACK TO BLOG