Grab a jacket and make your way to the freezer aisle, because March is Frozen Food Month! This is when you'll notice supermarkets offering tons of different frozen food items, which makes it the perfect time for savvy shoppers to stock up on quick and convenient mealtime favorites.
To celebrate Frozen Food Month, we took a few of our favorite Mrs. T's recipes and put 'em on ice! These make ahead meals will help you save time, prevent food waste, and will deliver delicious pierogy dinners with a simple preheat of the oven. Set the timer and forget it! Now you can help with homework, play a quick game, and enjoy some quality time with the family.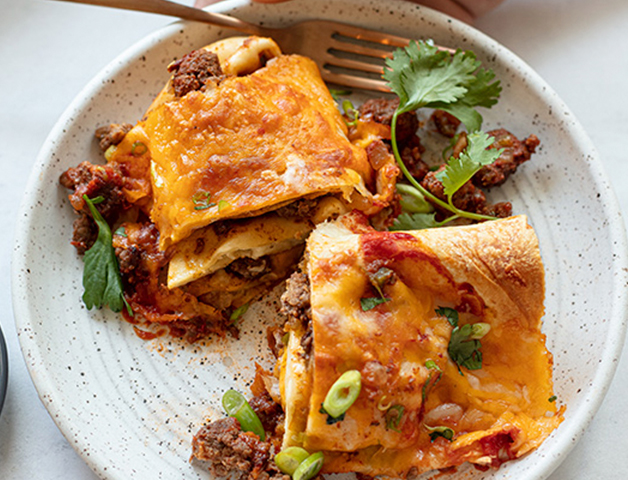 These enchiladas are the perfect option for pierogy-loving meal preppers! To make this recipe freezer-ready, use frozen pierogies; don't let them thaw out like the original recipe suggests. Put all the ingredients together in an aluminum foil tray, wrap it in plastic wrap, and cover it with foil. Wrapping the tray in plastic before covering with foil ensures a secure seal, keeping those tasty enchilada flavors fresher for longer. This meal can stay in your freezer for up to two months, making it a great addition to your meal prep routine!
Just take the tray out of the freezer in the morning, and at dinner remove the plastic wrap, bake at 375° for 20 minutes covered and 20 minutes uncovered. Voila! The perfect Pierogy Enchiladas with no cleanup necessary!
Mrs. T's Freezer Hack: Take your meal prep game to the next level by using a permanent marker to mark the prep dates on the tray cover. A little organization goes a long way!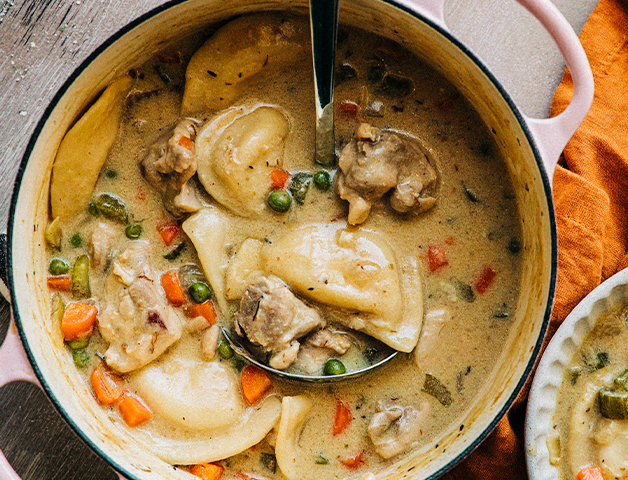 Nothing says 'comfort food' quite like our hearty Pierogy Chicken Stew. This belly-warming dish is guaranteed to see you and your loved ones through the last cold snaps of the season. To prep this meal for storage, make all the components ahead of time, but leave the pierogies out. We'll add them later.
Store the soup in an airtight freezer container. When you're ready to cook, move the soup to the fridge to thaw overnight. At dinnertime, bring your soup to a boil, reduce heat, and simmer. Here is when you want to add those tasty Classic Cheddar Mini pierogies! Simmer for another 7-10 minutes and your Pierogy Chicken Stew is ready. Hurry up and grab a bowl, this super satisfying meal always goes quick!
Mrs. T's Freezer Hack: To ensure the best stew experience, allow your soup to fully cool before storing it in the freezer. Trying to freeze soup while still warm can result in an uneven freeze and may cause ice crystals to form.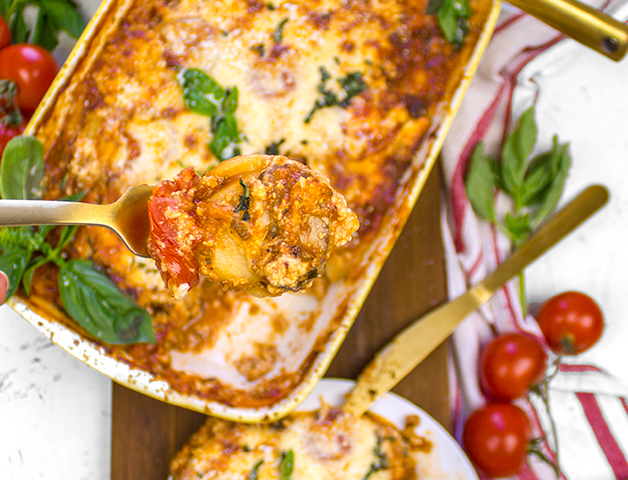 Pierogy Lasagna is a bona fide family favorite, but the longer prep and cook times can make it tough to pull off on a busy weeknight.  Converting this delicious lasagna recipe into a freezer-friendly meal could not be any easier. Just assemble the dish as directed and place it in a 9X13 aluminum foil tray. But don't cook it. Instead, wrap the dish in plastic, cover it with foil, and find it a nice, cold spot in the freezer. Your frozen lasagna should stay fresh and tasty for 2-3 months, but it'll take some serious willpower to wait that long!
Remove the tray from the freezer on the morning of (or night before) the day you plan to have your lasagna for dinner. Preheat your oven to 400°, remove the plastic wrap and bake for 20 minutes covered and 10 minutes uncovered. And just like that, delicious, homestyle Pierogy Lasagna is back on your weeknight mealtime menu!
Mrs. T's freezer hack: Freeze in individual servings to make an easy lunch for older kiddos! Keep the oven the same temperature and cook 15-20 minutes covered and 5-10 minutes uncovered.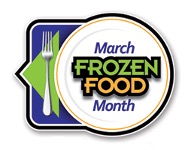 These freezable Mrs. T's recipe ideas are sure to make you the coolest cook in the neighborhood! But the frozen fun doesn't have to end there! Mrs. T's is going all out this Frozen Food Month with a Dinnertime Makeover Giveaway! Enter for your chance to upgrade your kitchen with great prizes like a June Smart Oven, a Fiesta® Dinnerware Set, a $500 Wayfair gift card, and more!
Our friends at Easy Home Meals are also hosting a Frozen Food Month Sweepstakes that runs until April 4th.
See you in the freezer aisle!
BACK TO BLOG