Every day, moms go above and beyond for their families. They are true All-Stars!
And when it comes to providing a home-cooked meal everyone loves, Mom always knows how to knock it out of the park. We took to our Mrs. T's Pierogies cookbook for our all-time favorite pierogy recipes that make Mom a star in the kitchen. Whether it gives her lightning speed with easy prep and fast cleanup, or the power of big bold flavors, she always has peace of mind in knowing that her whole family will LOVE her classic, feel-good recipes that they could only get at home.
So, which pierogies recipe is your all-time favorite? We picked the Mrs. T's Fan-Favorite All-Star dishes and are rating them below to see where they fall on our All-Star scale. We will be judging based on simplicity, flavor, and cook time. Let's get to it!
Some things are just worth waiting for, and this Mac and Cheese Skillet is one of them. It's still a short cook time of thirty-five minutes. This recipe sneaks in some amazing veggies like broccoli, red pepper, and yellow squash. All things we love to feed our families! After sautéing your veggies and scallions until they're tender, you'll set them aside so you can whisk together the sauce. Slowly adding in cream cheese and white cheddar to your roux while it thickens is so satisfying…comfort food at its best. When the sauce is done, simply add the veggies and pierogies back to the pan, coating in that delicious sauce, and serve—just that easy!
Best of all the flavors are something your family will love, and the veggies are something you'll love feeding them. This racks in a solid 5 out of 5 on our All-Star Scale.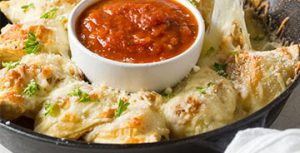 We all love melty cheese… but what's better than a long, gooey cheese pull? A cheese pull coated with warm garlic butter and herbs! Our Cheesy Garlic Pull Apart Pierogies work great as a snack after schoolwork or an app to get the family excited for mealtime! This recipe is so simple with Monterey Jack, mozzarella, and Parmesan cheeses, garlic and butter! It has a few more steps with baking and then putting it in the skillet, but it's totally worth it!
We give this 4.5 out of 5 on our All-Star Scale for its occasion versatility and delicious flavor profile. Also because, well, it's a cheesy pull!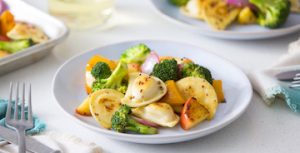 One-pan meals are our best friends! All ingredients on one pan means minimal prep and minimal cleanup — but we still mean maximum flavor! This Easy Veggie and Mini Pierogy Sheet Pan is coated in a wonderful Dijon mustard dressing you can make with a few simple ingredients in no time. Throw it in the oven for 16-18 minutes and you've got a dinner bursting with delicious, bright fresh veggies.
This recipe scores a 4.25 out of 5 on our All-Star Scale for its short prep and cook time, and very vivacious veggies! Plus, one bottle of Dijon dressing for a lightning quick flavor boost earns points in our cookbook!
Who says weeknight meals (or any meal for that matter!) need to be a hassle? If it's simple, delicious, and leaves smiles on your family's faces—we think it's a win. Just don't expect any leftovers… these All-Star recipes are known to result in clean plates!
Want more delicious and easy recipes that will make you feel like an All-Star? Visit our recipes page.
BACK TO BLOG