Picnic Party Ideas 
Have you been stuck inside binge-watching Netflix for too long? It finally feels like the never-ending winter season has passed and Spring has Sprung! Now it's time to get outside.
One of our favorite ways to enjoy an easy outdoor meal is to pack a picnic—but not just any old picnic. People are putting together beautiful table settings and décor for their outdoor gatherings and we have some tips to help you do the same.
The best way to plan the perfect picnic is to decide who you're inviting. Knowing who you are entertaining will help with food choices, decorations, and type of tableware! So, let's divide these picnic parties into three categories. Any element can be interchangeable to suit your picnic, but this gives us a starting point.
Kid Picnics
Let the kiddos get creative and decorate their own tablecloth! Lay down a tablecloth that can be drawn on and put little buckets of drawing tools around the table. This makes a great keepsake that can be used multiple times until it's completely covered.
When setting the table be sure to use plastic or other kid friendly material that can be reused. The tableware will not break if dropped on the patio or hit by a rogue yard toy. Matte plastic tableware has modern, neutral colors for the table, which will look great against a colorful kid created tablecloth. Fun decorations can go a long way! Designed cups and balloons are enough to set your picnic apart from the rest, are simple, easy, and the kids will love them!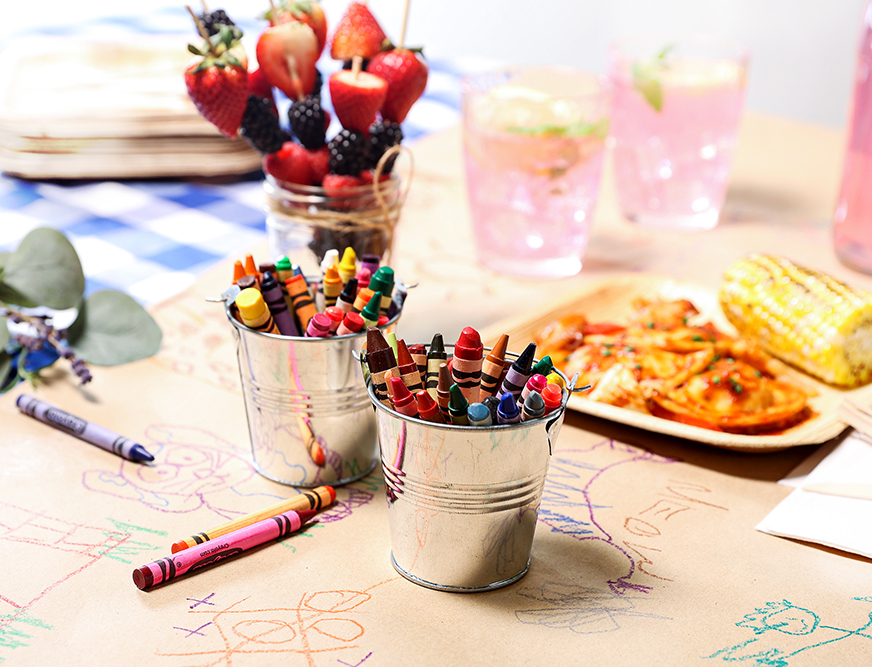 Our meal will have to compete with all the fun stuff on the table so a handheld option is a great way to keep those tiny hands busy during dinner. Skewers are great for small hands, and you can even cut the tip of the skewer to remove the pointed edge. The kids can enjoy a handheld, easy meal that makes mealtime more fun. Our Grilled Hawaiian Teriyaki Mini Pierogy Kabobs will be a BBQ favorite in an instant—for the adults too!
Family Picnics
Big rustic table settings are wonderful for a family gathering. The neutral colors are perfect for springtime and go well with a bright accent color. Burlap over a white tablecloth is a classy and effortless way to make any picnic a bit more elegant. A eucalyptus and lavender centerpiece will not only look good but will keep bugs away and the energy calm.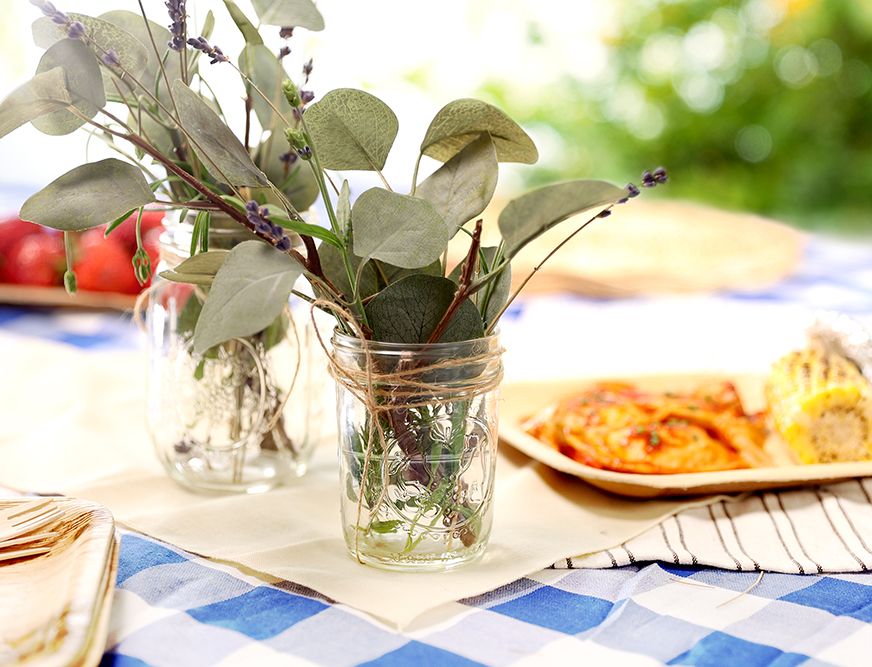 If your picnic is at home using your regular dinnerware is a smart choice. If you don't feel like doing dishes or traveled for your picnic; try bamboo flatware! It's eco-friendly and can be thrown out at the end of the day.
Picnic parties are a fun twist on the classic summer backyard grill get-together. Easy BBQ recipes like Mrs. T's Grilled BBQ Chicken & Pierogy Packet dinner are a great option. Throw everything into individualized foil packets, grill it and serve!
Date Night Picnics
We often forget to take a little time for ourselves. A quick little picnic is quality time and romance all in one. Lay out a beautiful, checkered blanket with large outdoor pillows and you have a classic picnic for date night! If you have access to a wooden pallet this can make a great makeshift table while still letting you enjoy the traditional sit-down picnic. Otherwise, your blanket will work just fine — there are no rules for picnic dates!
A summer pierogy recipe will be perfect for a nice romantic evening. If you and your significant other want to head out to a park for the evening hit the grill first and pack Avocado Ranch Mini Pierogy Salad in a thermal food carrier!
Picnics are a wonderful way to spend springtime fun with the whole family. The only thing you really need for the perfect picnic is you and your loved ones. Enjoy these next few months before the weather is insanely hot!
BACK TO BLOG