Back-to-school season can be a stressful time for families—especially moms. Whether your kids are studying from home or heading back to school, your schedule is going to get a lot busier. And one of the biggest challenges is… trying to figure out what to make for dinner! Making delicious meals the whole family will love doesn't have to take hours.
A great meal solution to consider adding to your freezer is Mrs. T's Pierogies. Pierogies are delicious pasta pockets loaded with creamy mashed potatoes, cheesy goodness, and other big bold flavors. Pierogies can be quickly boiled, baked, grilled, or sautéed—making them an ideal easy weeknight meal.
Pierogies can be served simply with butter and onions—or you can bring your creativity in the kitchen and prepare them in whole new way – that's what is so great about their versatility! Here are a few recipe ideas that might get your creative juices flowing: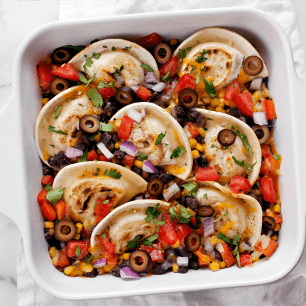 Pierogy Taco Casserole
This is an easy casserole recipe that only takes about 10 minutes of prep time. This is a great recipe for those nights when you are feeling like getting creative, but don't have a lot of time. And, you can definitely have a little fun with the kids helping you make this.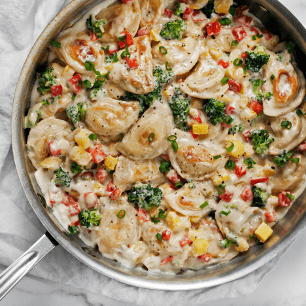 Mini Pierogy Mac 'n Cheese
Ready for a super delicious one skillet meal? This dish adds a little flare to a classic we all love… mac and cheese. That's what makes this the perfect dinner for kids and one the entire family will love. We use Mrs. T's Mini 4 Cheese Medley Pierogies. This recipe is also loaded with the healthy vegetables your kids need like, broccoli, peppers, squash and other ingredients to complement that cheesy gooey goodness. And can you believe it only takes 10 minutes to prepare?
Mini Pierogy Mac 'n Cheese Recipe
Pierogy and Kielbasa Sheet Pan Dinner
Here's another convenient 10-minute meal solution. Are you starting to see a pattern with these recipes? This dish is loaded with savory, zesty flavors your family will love. Garlic and parmesan go great with kielbasa and that's why we recommend our Mrs. T's Garlic & Parmesan pierogies for this recipe, or you can use one of our other many flavors.
Pierogy and Kielbasa Sheet Pan Dinner Recipe
As summer comes to an end and we prepare for the upcoming school year, there are many things on our to do lists. No need to stress over dinner with all the other things on your plate! Try these super easy weeknight meals and see how much more time you can enjoy with your family. When you make these delicious dinners take a picture and post it on Instagram with @MrsTsPierogies. We would love to see how they come out and hear about how your family loved it! 🙂
BACK TO BLOG