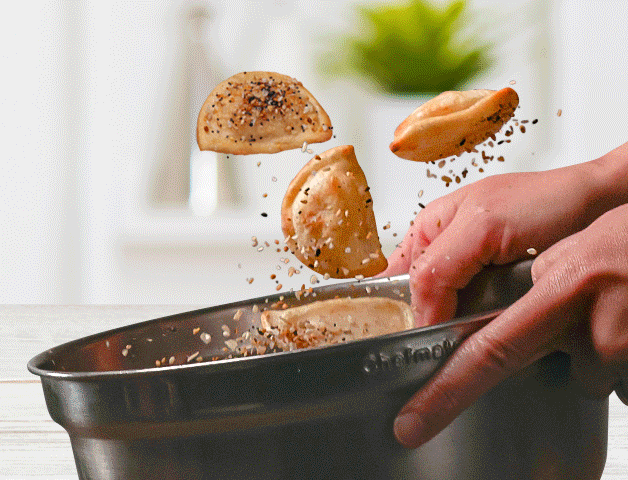 Every family has different routines and meals that we cycle through. We adjust recipes based on time of year, schedules, and what we know the family will eat and still be smiling after. Versatility is key in making a family favorite and Mrs. T's Pierogies are the picture of versatility!
This year charcuterie boards have been on everyone's list. They are perfect for any event. Movie night charcuterie boards, wine and cheese night charcuterie boards, and even candy charcuterie boards for dessert! Let's make a charcuterie board a touch more versatile with the char-KID-erie board! A charcuterie board designed with little hands in mind. In just a few minutes you can have a delicious snack that is fun to eat. Boards are great for snacking by the pool, at a family gathering or a little something for the kids to nibble on while you are getting dinner ready. It will become a family favorite in no time!
Kid-Friendly Charcuterie Board
To start off your charcuterie board, prepare the ingredients needed for our Everything Toasted Pierogies. In that recipe we used Classic Cheddar Pierogies, but for this board we recommend you use whichever Minis flavor your family loves! Mrs. T's Mini Pierogies are perfect for tiny hands and make a great poppable snack. Once your pierogies are baked or fried and tossed in the everything spice you can begin to assemble your board.
We all know the drill with putting together a charcuterie board, the first step is finding the perfect rustic cutting board. We used a light grain wood for our summer kid-friendly charcuterie board! Once you pick yours out, fill it with all kinds of great handhelds kids love!
Here are some of the things we put on our board:
Fresh and Warm Toasted Pierogies
Pretzel Sticks
Salami or Pepperoni
Veggies
Fruit
Crackers
Cheese Cubes
Chocolate Candies
Ranch or Other Dips
This board will be gone almost as fast as it takes to assemble! Kids love options and a snack board is a great way to cater to that. Family favorites aren't always about a big meal that takes a lot of work. Sometimes a simple pre-meal snack or occasional party app brings just as much excitement as a beloved dinner.
If you try this kid style charcuterie board, be sure to take a picture and tag us on socials!
BACK TO BLOG