BBQ Family Meals
Summer is filled with wonderful activities that will have our kids running around all day long. Whether they are swimming, playing sports or just playing neighborhood games, a busy kid always makes for a hungry kid after a long day of playing. Pierogies are a perfect summertime meal and so easy you can kick back and relax to the quiet sizzle of Mrs. T's on the grill for dinner.
Watch the sizzle with the sound up!
Summer days are long and hot, most of the time we're exhausted by dinner and need easy dinner recipes for the family. Our Sweet and Sour Pierogy Kabobs has tons of flavor and the grilled pierogies create a tasty texture! Peppers and pineapple are great on kabobs because when they are cooked with such high heat the juices and flavor really enhance the whole dish. Layer all the ingredients on to a skewer and let the grill do the rest! The colorful peppers and pineapple make a beautiful pattern that's Instagram ready.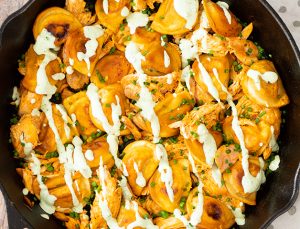 Another fun summer dinner idea on the grill is this Buffalo Chicken Skillet. Using a skillet to cook on the grill is an easy way to get all those smoky elements we love from grilling with a lot less trouble. This dish calls for shredded rotisserie chicken and buffalo sauce sauteed with Mrs. T's Pierogies. Rotisserie chicken is a convenient ingredient because it's already cooked and you can always use leftovers for tons of other dishes. The main is so easy that the sauce is definitely worth the little extra prep. With just 10 ingredients and a blender you will have a refreshing and cooling sauce to go with your spicy main course.
BBQ Side Dishes
Every BBQ needs some delicious sides! A few sides are always a crowd pleaser like corn on the cob, salads, fruit bowls, and potatoes. Conveniently, Mrs. T's has the potato covered because if you're not feeling pierogies as your main, try some great sides! Taking corn on the cob street corn and making it into a flavorful pierogy dish with Grilled Spicy Pierogy Mexican Street Corn is a unique and tasty twist on a summer classic. Feeling more of a salad vibe? We've got that too! Try this  Avocado Ranch Mini Pierogy Salad for a refreshing and tasty side.
Grill Tips
To help with these recipes here are a few grilling tips:
Grill marks doesn't = cooked food. Check temperature.

Beef, pork, lamb and veal (steaks, roasts and chops): 145° F with a three-minute rest time.
Ground meats (beef, pork, lamb and veal): 160° F
Poultry (whole or ground): 165° F

Always start with clean hands!
Separate any raw ingredients.
Fruit and veggies may not need to be cooked to any certain temperature, but they do have an optimal temperature for flavor and texture. Cut all veggies into small pieces and cook on medium heat.
Nothing quite beats the sound of a grill getting started because that means the family is winding down for dinner. Check out our ASMR video of grilling some delicious kabobs to enjoy some summer sounds, anywhere.
Don't forget! Tag us on socials if you try out these recipes, we love to see how they come out.
BACK TO BLOG