Summer isn't over yet… and warm nights are made for grilling!
Make the most out of the last days of summer and fire up the grill. That smokey, charred essence permeates the food, making meats sizzling good and vegetables sweeter from the touch of flames. Mmm… Food just tastes better!
We all love burgers, hot dogs and steaks on the grill—but pierogies? That's a delicious new meal you're going to have to try.
Trying something new on the grill is usually a little tricky, but lucky for you grilled pierogies can be super easy with these great grilling tips courtesy of grill expert Susie Bulloch of "Hey Grill Hey."
Use Good Cooking Oil
Delicious, smokey, grilled pierogies are all about that nice crispy exterior with creamy potato and cheese on the inside. To achieve the perfectly cooked pierogy, we recommend using a high-quality cooking oil. Olive, avocado, and canola oil are all great options that can handle the heat of the grill. Lightly brush each pierogy or toss them in a bowl with a splash of cooking oil.
Try Two-Zone Cooking
Begin grilling on the low temperature side of the grill (also known as indirect cooking). Doing this will slowly raise the temperature of the frozen pierogies. Then move the pierogies to the hot side of the grill, also known as direct heat, to add a crisp texture.
Add Layers of Texture
Mrs. T's Pierogies have a soft interior and crispy exterior when grilled to perfection. Pairing them with a juicy, chewy protein and flavorful sauce will enhance their textures. You can achieve this flavor profile with grilling recipes like Grilled Pierogies with Steak and Chimichurri.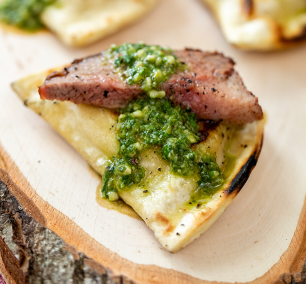 Don't Be Afraid of Color
Grilled to golden brown with those beautiful grill marks will make your grilled pierogies look and taste amazing. (Check out these Grilled Greek Lemon Chicken Pierogy Skewers!)
Adding new flavors to your repertoire of grilling choices will turn those classics into completely brand-new favorites! Hotdogs and burgers are meals our families already love, try adding pierogies as a crowd-pleasing side dish.
Spice up dinner with BBQ Grilled Pierogies. Drizzle a little barbeque sauce and seasoning on one of your favorite flavors. Sometimes instead of potatoes, we like to add Mrs. T's Pierogies to our sausage and peppers. Put all three ingredients in a tin foil wrap and place it on the grill with your favorite seasoning and cooking oil. Let that cook alongside your main course. All the flavors smoke up in the foil and release a gorgeous smell when the foil is opened.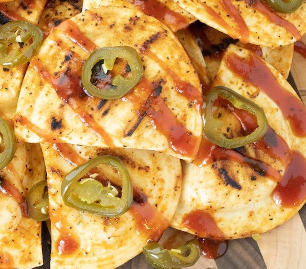 The possibilities are endless! While the weather is still warm and our grills are still hot, let's make the most of this time together and create new memories around the picnic table. Try a variety of grilled pierogies recipes on our website today.
Mrs. T's 14 flavor profiles make finding new favorites fun and easy. Surprise the family with exciting options on your next grilling day.
BACK TO BLOG