Mrs. T's Celebrates Fall Favorites for NPD 
It's happening! The leaves are starting to change, the morning air is starting to chill, and the Spirit Halloween stores are out of hibernation. Fall is finally here again, and that means Mrs. T's is celebrating National Pierogy Day on October 8th with all our family-favorite fall activities! Among the picture-perfect moments, and fun seasonal pastimes, it's the best time of year to whip up some cozy comfort food featuring the iconic autumn flavors we love. There's no better way to cap off the perfect day of fall family fun than with a hot plate of Mrs. T's Pierogies! If you're looking for inspiration for seasonal activities, we put together a list of some of our faves!
Fall Bucket List Activities 
Fall photoshoot
Take a day to create some beautiful family memories that will last a lifetime! For a relaxed photoshoot, plan your outfits a few days ahead of time, stay light and positive, and be sure to fuel up with some air fried pierogies before you go. We wouldn't want any hangry faces in the family pictures!
Apple Orchard/Pumpkin Patches
A family trip to an orchard or pumpkin patch is an essential fall activity! This is prime retail season for many local farms, so they tend to go all out. You can pick apples or pumpkins, sip on cider, get lost in a corn maze, or bounce around the farm on a hayride. It's the perfect hands-on activity for curious kiddos, and a great opportunity to start a fun tradition that the whole family will love!
Pie bake-offs, chili cook-offs, cocktail competitions and more
Food is one of the best parts of any season, and fall is no different! Those delicious seasonal flavors that pop up in our favorite fall recipes – pumpkin spice, apple, maple, cinnamon, salted caramel – are just too good to ignore! So, don't be shy! Sign up at a local food festival and try your hand at one of these food competitions, or for a little added spirit to your next potluck, you can start an annual competition among friends and family! Best appetizer, favorite drink, or most memorable dessert! The possibilities are endless!
Pierogies are the perfect recipe hack for fall cook-offs because they pair well with so many different flavors. If you're looking for a leg up on the competition this year, Mrs. T's has some huge news for fans of flavor! In celebration of National Pierogy Day on October 8th and our 70th Anniversary, we are giving away boxes of Mrs. T's Mini Pumpkin Spice Pierogies to 70 lucky winners! These limited-edition pierogies are filled with the seasonal stuff you love—whipped cream cheese and fall favorites like pumpkin, cinnamon, ginger, and other spices – all wrapped in tender pasta. Click here to enter for your chance to win a box of this exclusive Mrs. T's Pierogies fall favorite. Don't miss out on your chance to a part of the #PierogySquad!
If you aren't a winner, don't fret! We've got a whole range of mouthwatering flavors that are guaranteed to put you in the winner's circle at your next fall cook-off! Here are a few recipe ideas to get you cooking!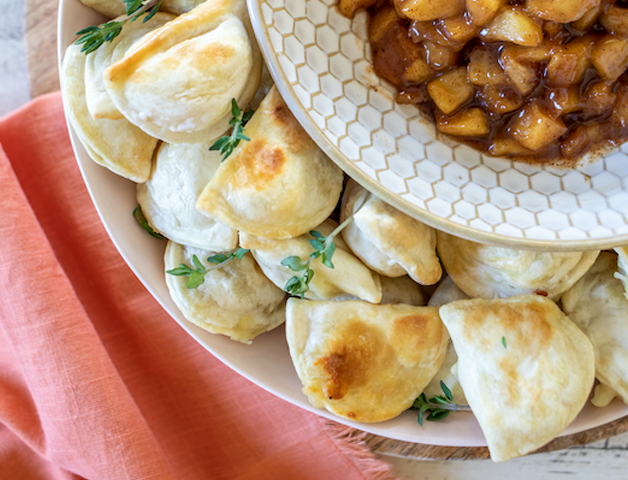 Air Fried Minis with Homemade Apple Pie Dip is a delicious mix of sweet and savory. It bridges the gap between appetizers and desserts and is sure to become an instant family favorite!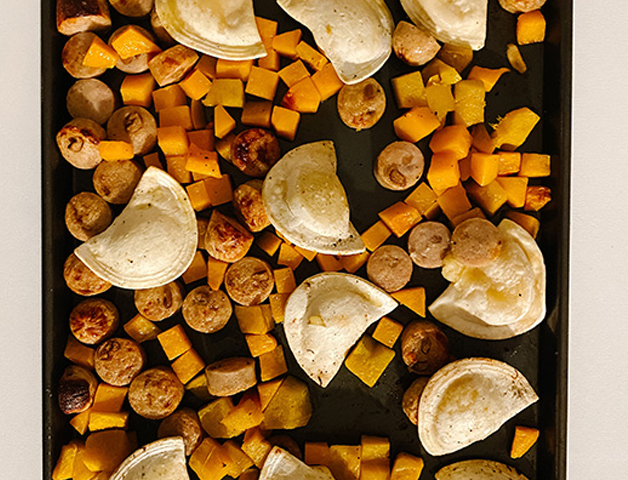 Our Pierogy Squash Sheet Pan is an easy and flavorful way to incorporate fall ingredients into a satisfying meal. This one takes a bit longer to make, but the flavor is absolutely worth the wait!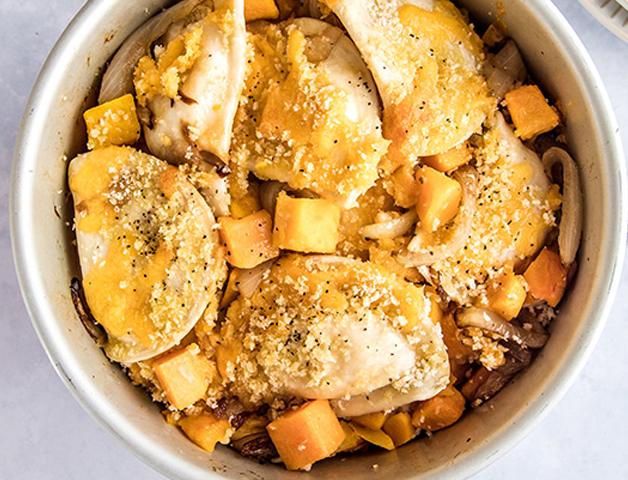 Get the look and taste of fall with this Butternut Squash Pierogy Casserole! It's the perfect comfort food for those chilly autumn evenings!
As always, tag us in your social post if you try any of these delicious fall favorites!
BACK TO BLOG