After a very long twelve months, we finally made it! It's time to start the new year with a fresh start, fresh habits, and fresh… veggies? Sure! No matter what a fresh start looks like for you (more activities with the kiddos, jamming to a new workout routine, or just taking some well-deserved "me time") adding a few more veggie options to your rotation of weekly meals can be a great start.
One of our favorite vegetarian pierogy recipes from the Mrs. T's cookbook is Fajita Pierogies. It is the perfect veggie meal that's quick, easy to make, kid-friendly, and did we mention delicious? This recipe has a 10-minute prep time, and the sauce is made with a simple fajita packet you can find at your local grocery store. It's the ideal weeknight dinner for a busy family! This simple dish is delicious, healthy, and best of all… it can be meal prepped and stored in the freezer!
What you need for this freezer meal prep:
One box of Classic Onion (or your favorite variety of Mrs. T's® Pierogies)
One each of green, red, and yellow peppers (sliced)
One medium onion (sliced)
What you'll need in your pantry for later:
1 package (1.25 ounce) fajita seasoning mix
1½ tablespoons vegetable oil, divided
3 tablespoons water or more as needed
Salsa for garnish
Sour cream for garnish
What tools you'll need:
Parchment paper
Baking sheet
Freezer-safe bags or containers (we use eco-friendly silicone bags)
Skillet
How to Prep Veggies for the Freezer:
First, you want to thoroughly wash the veggies. We like to use multi-colored peppers because they add beautiful colors our kids love, but any kind will do. Start by cutting the top of your peppers off and remove the seeds inside. Cut your peppers into long strips. We prefer to cut them pretty thin, but another fun option is to cut them into fun shapes, something that the kids always love! Whatever shape you're feeling, it will freeze the same.
Optional Veggie Freezer Prep
No one likes when we go to use our frozen veggies and they're a clumped-up mess in the freezer bag! Suddenly, we are a step behind because our veggies need to defrost to fit in the pan. No worries, Mrs. T's has a solution! The trick is to first put the sliced peppers and onions on a parchment-lined baking sheet. Cover with another layer of parchment paper and freeze for about four hours minimum and twelve hours maximum. This first freeze helps them taste fresher and saves time on defrosting. Yep, as easy as that.
Prepping Our Freezer Containers
After your veggie freezer prep is complete, it's time for meal prep! Place veggies into freezer-safe bags or containers for each meal. You can even use eco-friendly, reusable silicone freezer bags like our Zip Top bag — easy for you and better for our planet! Store the veggies in the freezer for up to six months. The pierogies are already conveniently stored in your freezer, ready to cook when you are!
Ready to cook this easy veggie and pierogy recipe?
First things first, grab your veggies and pierogies out of the freezer and let them stand for about ten minutes. While they sit, we are going to multitask (you know how to do that, right mom??) and get our skillet ready by heating one tablespoon of vegetable oil over medium-high heat. When ready, drop in your pierogies and sauté for 4 to 6 minutes per side.
Here is when you want to add the veggies and all of those beautiful spices. We use one package of fajita seasoning mix and sprinkle it across the pierogies and peppers while they sauté.
Add three tablespoons of water (or more if needed) and mix it all up. Let the pierogies and veggies soak up all that flavor by cooking for about 2 minutes longer (or until the pierogies are coated and heated through).
We like to serve our Fajita Pierogies with sour cream and salsa for dipping. Everyone loves dipping and dunking when it comes to mealtime – and it can make it especially fun for kids.
This meal is always a delicious choice and super easy to make. The fact that it can be prepped and saved is just a bonus!
No time for meal prep but still want quick vegetables? Try this veggie stir-fry instead, it's the perfect veggie recipe for kids!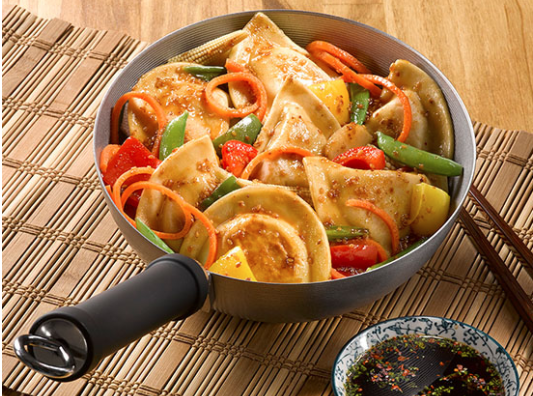 All you need is a frozen bag of stir-fry veggies, your favorite Asian sauce, and one box of Broccoli and Aged Cheddar Pierogies. Boil your pierogies for four minutes, then put them in a pan with veggies and sauce. Sauté it all together and serve for a quick, easy weeknight meal the kids will love.
Want more recipes and articles like this? Subscribe to our monthly newsletter!
BACK TO BLOG