Kids in the Kitchen
Fun fact: mealtime doesn't have to be stressful! We know it can feel rushed after all of the hustle and bustle of your busy day. Life is crazy and rarely goes the way we want. That said, sometimes it's important to take a step back and consider how the kitchen can still be the perfect place to create fun and engaging moments with your kids!
Now, let's be clear—we know not every night is a "kids in the kitchen" kind of night. Sometimes you're in a pinch, sometimes they're in a mood, but for the special times when everything falls into place there are a variety of ways you can get the little ones involved. For starters, you can always let them help with the grocery planning and shopping. Kids love being a helper, especially when they're learning from their parents. It gives them a purpose! After shopping or creating your ingredient and recipe lists, they can help prep and cook the meal. Whether it's stirring a mix, finding ingredients, putting dishes in the sink, or setting the table, there's plenty of ways to make them feel valued and part of the process. (Plus, a trip to the grocery store or being a busybody in the kitchen will help wear them out for nap or bedtime that you need oh-so-badly!)
Having kids in the kitchen can also be a great time to introduce something new to your meals. Once they're working hard and seeing how the meal is made, they'll be starving by dinner and ready to dig in! If your kids are even the slightest bit picky, helping in the kitchen may spark their curiosity to try new flavors.
At Mrs. T's Pierogies, we love easy and delicious recipes that are "kids in the kitchen" approved.  Here are a few videos that show how kids can get cooking in the kitchen for your next meal with Mrs. T's:
Our first recipe is from Dzung Lewis! Her take on Beef Stroganoff features Mrs. T's Mini Classic Cheddar Pierogies, but you can use whichever you like. Dzung made this fantastic recipe with her daughter. Click here to watch! Beef Stroganoff is a classic feel-good comfort food meal that will be a family favorite now that the weather is starting to cool down. [@honeysuckle on Instagram]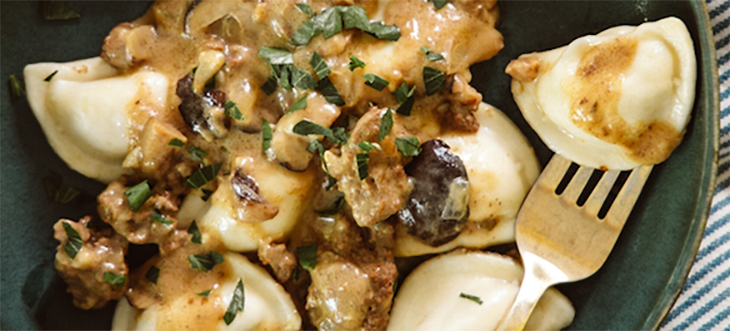 This delicious dip is perfect for special nights like dinner and a movie! Rachel Quenzer from The Everyday Mom Life perfected a Bacon Cheeseburger Dip recipe for you to use Mrs. T's Pierogies as dippers! It's to die for and only takes ten minutes to prep, and 35 minutes to make! Sometimes we just need a little starter before a big meal, or something savory for afterwards on the couch. Either way, your family will love these classic cheeseburger and bacon-infused flavors and Mrs. T's Pierogies make for the perfect dipping partner. [@rachelquenzer on Instagram]
We're currently obsessed with this Mini Pierogy Ramen recipe that you can use to make a super quick and delicious dinner! It only takes two minutes of prep time, making it an easy introduction for letting kids help in the kitchen. Less stress for you, more fun for them! Brittney of Homegrown Traditions created it as a family-friendly dinner option for days when you don't have the time or energy to spend over an hour in the kitchen. You know what makes the recipe extra convenient? You probably have most of the ingredients in your pantry already! [@homegrowntraditions on Instagram]
Dinners don't always need to look picture perfect. A little mess and imperfection can still make a tasty and fun meal. That's the good stuff Jehava Brown of Onlygirl4boyz created with this super satisfying new deconstructed stuffed pepper recipe! The savory beef with the crisp sweetness of the pepper is a flavor match made in heaven. Prep time is only five minutes, making it an easy way to end a busy week and get the kids involved with the process. They can stir the sauce, add the pierogies, or sprinkle some cheese on at the end! [@onlygirl4boyz on Instagram]
These recipes are just a few of our favorite ways to introduce the kiddos to the kitchen. There are so many fun and kid-friendly recipes on Mrs. T's site that can be great for teaching and spending quality time together. Letting kids help prepare meals is a wonderful experience all around for them. They're more connected to the food they eat and you can build bonds with them, all while teaching small lessons along the way like patience and how it's okay to make mistakes. Plus, having a little helper is an added bonus for you!
We're all spending more time together these days so let's make the most of it. Kids are getting in on the activities surrounding mealtime from picking out food at the grocery store (71%) to cleaning up (56%) to even helping prepare the meal itself (48%) *. Give them the freedom to create something and most importantly, have fun! Pick out a delicious meal and share with us what you and your mini chef decided to make — tag us on Instagram @mrstspierogies!
*Mintel, Feeding the Family – US, March 2020
BACK TO BLOG