Grilling season is finally here again! It's a time for cookouts, barbecues, backyard parties, and, of course, pierogies. We've put together a few tips and tricks guaranteed to get you fired up and ready to bring the heat for the whole season!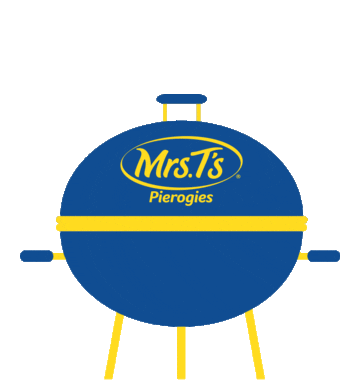 A Clean Grill is a Happy Grill!
You'll want to begin grilling season by pulling your grill out of hibernation and giving it a good thorough cleaning! Whether you're using a gas grill or charcoal, the experts agree that every great grilling season starts with soap, water, and a little elbow grease! Techniques vary based on the make and model of your grill, so be sure to check with your manufacturer for specific cleaning recommendations. A clean grill leads to better performance, which means you and your family get the best tasting meals possible!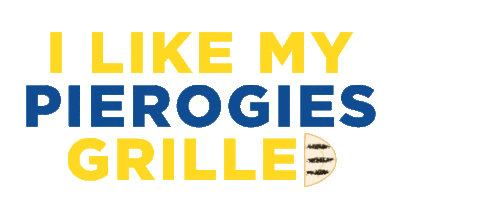 Use the Proper Tools
Life (and cooking) is so much easier when you have the right tools at your disposal! Every grill master should have at least a sturdy set of tongs, a spatula, a grill brush, and a meat thermometer. A "Kiss the Cook" apron isn't required, but we strongly recommend it! There are tons of great tool kits and grilling gadgets out there specifically designed to simplify the grilling process so you can focus on your favorite flavors!
Know Your Hot Spots!
You may have noticed that food cooks faster or slower in certain spots on your grill. These hot spots can be frustrating, but don't worry! You can use the "toast test" to map out the hot zones on your grill. Turn your grill on medium heat for 15 minutes until the grates are nice and hot. Place slices of white bread evenly across the grates. Cover the grill and let your bread cook for about 1 minute. Turn off the heat, uncover the grill, and use your tongs to flip the bread over. Be sure to keep the bread in the same spot on the grill. Once all your bread is flipped, the darker slices of toast will indicate the hotter areas of the grill, and the lighter slices will indicate the cooler locations. Snap a pic of the toast layout for future reference and never worry about overcooking dinner again!
Great Food Comes from Great Recipes
Now that your grill is prepped and ready to go, there's no better way to kick off grilling season than with a delicious recipe from Mrs. T's Pierogies! You'll be King (or Queen!) of the Grill all summer long with these grill-icious family favorites.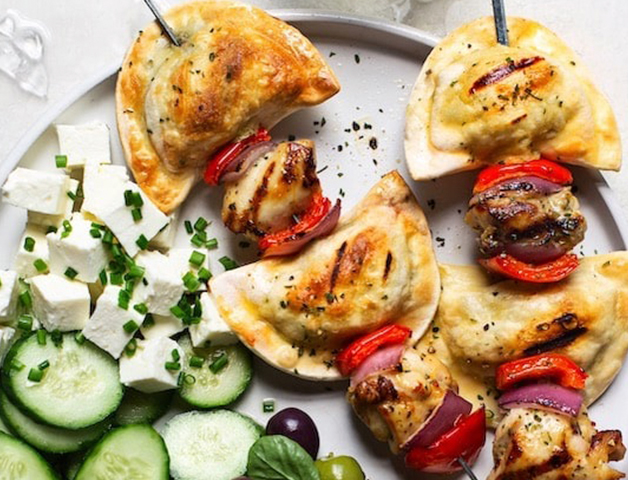 Mrs. T's Grilled Greek Lemon Chicken Pierogy Skewers
The base of this dish is a zesty marinade made with lemon, olive oil, garlic, salt, pepper, and oregano. Let the chicken marinate for at least 30 minutes in the refrigerator and grill for 20 minutes. Mrs. T's Feta & Spinach pierogies are the perfect choice to highlight this tasty summertime skewer.
A satisfying vegetarian option is a MUST for any good BBQ. Our Caprese Grilled Pierogies are perfect for the vegetarians in your life. It only takes 10 minutes on the grill and has bright and beautiful Mediterranean flavors – fresh tomato, basil, mozzarella, and a balsamic drizzle. You don't have to be vegetarian to enjoy our Caprese Grilled Pierogies, it's also a great way to incorporate extra veggies into mealtime.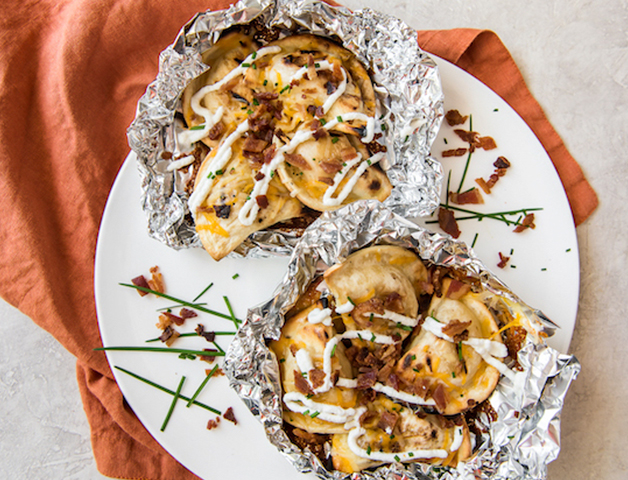 Cheesy Grilled Pierogy Packets with Bacon
Foil packets are by far the easiest and most delicious way to get a ton of flavor in the smallest amount of time. Prep for this recipe only takes 5 minutes! Put your oil-coated pierogies and bacon in a heavy-duty foil sheet and seal tightly. Grill for 10 minutes and enjoy!
There's no season quite like grilling season – when families and friends come together to enjoy the warm weather and delicious summertime flavors. Whether you're experimenting with fun, new spice combinations, mastering the art of the marinade, or rolling out a tried-and-true family favorite recipe, Mrs. T's Pierogies is ready to help you keep the fun going all season long 😊!